Whitney Humanities Center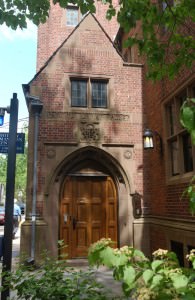 The Whitney Humanities Center is an interdisciplinary institution that reflects Yale University's longstanding commitment to the humanities. The Whitney promotes research and scholarly exchange across fields and supports especially the activities of faculty and students whose work transcends departmental boundaries.
It does this in many ways, from hosting international conferences, colloquia, and lectures that bring prominent visitors to the university to providing research and publication grants to individual scholars; from supporting the focused interdisciplinary work of the Humanities/Humanity workshops to sponsoring working groups of faculty and students devoted to the informal exchange of ideas on topics of shared interest.
The Whitney is home to a broad-based intellectual community defined by a distinguished fellowship that meets weekly. Programs and centers sponsored by the Whitney include the Franke Program in Science and the Humanities, the Yale Program for the Study of Antisemitism, and the Center for Historical Enquiry and the Social Sciences.
For more information: Check out the Whitney Humanities Center Website